Tesla Wall Connector installeren
U zoekt een installateur voor uw Tesla Wall Connector? Of wilt u uw Tesla Wall Connector laten installeren thuis? Sneleenlaadpaal.nl is een door Tesla goedgekeurde en gecertificeerde installateur waardoor wij snel en veilig uw laadpaal kunnen installeren. Of u uw Tesla Wall Connector thuis wilt laten plaatsen, of op uw werk, we staan altijd snel voor u klaar. We installeren de Tesla Wall Connector in Rotterdam, Bergschenhoek, Pijnacker, Den Haag, Rijswijk, Voorburg, Barendrecht, Spijkenisse en overal in de omgeving van Rotterdam en daarbuiten. Vraag nu een offerte aan.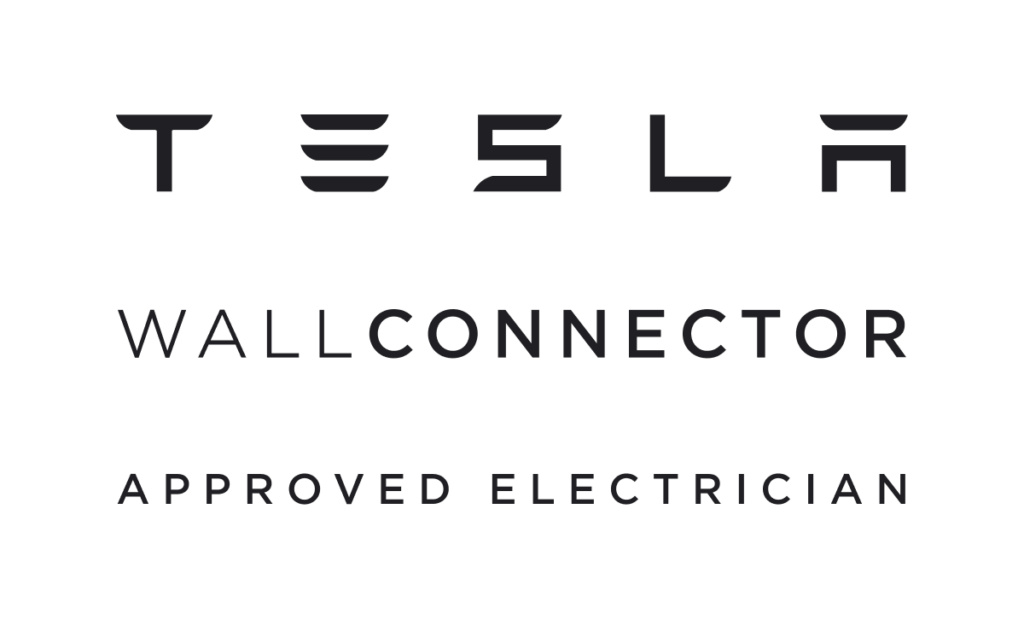 Award
We hebben recent een 'Performance Excellence' award gewonnen. Deze award is toegekend doordat onze klanten in het kader van het kwaliteitsprogramma van Tesla consistent positieve feedback geven over onze installaties.
We leveren van elke installatie meerdere foto's aan bij Tesla, zodat ze over de kwaliteit kunnen waken en zeker weten dat de lader conform de gestelde eisen opgeleverd is.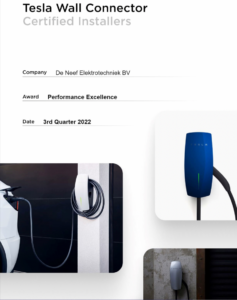 1 of 3 fase aansluiting
De Tesla Wall Connector kan als 1 fase thuislader aangesloten worden. Ook is het mogelijk om de lader als 3 fase lader te installeren. Hierdoor kunt u sneller thuis laden. Zoekt u een eigen laadpaal voor de deur, de Tesla Wall connector is daar zeer geschikt voor.
De Tesla Wall Connector is betaalbaar
De Tesla Wall Connector is een betaalbare laadpaal die u rechtstreeks bij Tesla koopt in de webshop van Tesla. Vergeleken met andere laadpalen, is de Tesla Wall Connector relatief goedkoop in aanschaf. Door het typische Tesla design, ziet deze Tesla Wallbox er goed uit en is de constructie zeer degelijk.
Beveiliging
Uw Tesla Home Charger is beveiligd, waardoor er geen onbevoegd gebruik mogelijk is. De Tesla Wall Connector kan per specifieke Tesla bepalen of er wel of niet geladen mag worden. Maar het is ook mogelijk elke auto met een type 2 stekker te laden.
Vaste kabel
De Tesla Thuis Lader heeft een vaste kabel. Dit is zeer geschikt voor thuisgebruik. De reden hiervoor is dat u de kabel niet uit de auto of huis hoeft te halen om te laden, maar u hoeft alleen het uiteinde van de kabel in de auto te stoppen. Ook kunt u met de knop op de kabel de laadklep van uw auto op afstand openen.
Tesla Wall Connector Installaren
Vraag nu een offerte aan voor het installeren van uw Tesla Wall Connector. Wij nemen dan contact met u op voor de installatie van uw laadpaal thuis.